Happening at Avalon Inn this Season
Yoga and Ayurveda in India
with Filip Kliestik and Petra Zaveska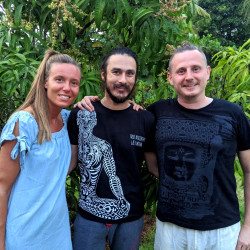 7 Nov 2022 - 19 Nov 2022 (13 days)
We practice guided meditation, pranayama, yoga nidra and asanas, combined with an Ayurvedic Panchkarma detox regimen in cooperation with Ayurclinic Goa.
The retreat is dedicated to everyone who wants to connect with the present moment and take care of his/her body and mind.
Guest teacher is Dr. Rajbir Dhillon.
The retreat will be held in Czech.
Contact us for more information:
https://www.harmony-yoga.cz/
Yoga Therapy Workshop
with Deepak Wadhawan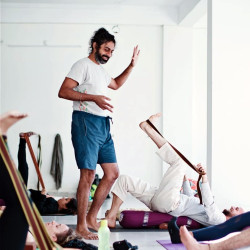 9 Jan 2023 - 28 Jan 2023 (20 days)
08 – 11 am
Experience pancha prana in asanam, work with alignment and props, and understand the healing aspect of asanam.
Deepak Wadhawan is a naturopathy doctor and certified yoga teacher with 18 years of experience who works on the healing aspect of Yoga.
The workshop will be held in English
Contact Deepak for more information: +91 88507 59480
Yoga Therapy Workshop
with Laetizia Di Milta
14 Feb 2023 – 18 Feb 2023 (5 days) 09:00 am – 11:30 am
and
21 Feb 2023 – 25 Feb 2023 (5 days) 09:00 am – 11:30 am
I have been living in India and studying yoga here for five years. I began with 3 TTCs in Hatha yoga, and movement and therapeutic yoga. Very quickly, I became interested in the healing aspect of asana. I devoted two years of study to Iyengar theory and two more years to a special technique of yoga therapy.
These workshops focus on alignment, breath and awareness. When these three elements are reunited, the body can heal by itself. After completing the course, you will be more aware of your breath, posture and movement both during your asana practice as well as in daily life.
These workshops are for anyone wanting to grow older in a younger way – including beginners, advanced practitioners, teachers and people with injuries.
The workshops will be held in English.
Contact Laetizia on WhatsApp for more
information: +41 79 698 8105
Drop-in Yoga Classes
with Rosa Heemskerk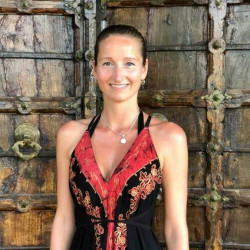 15 Feb 2023 - 15 Mar 2023 (4 weeks)
Daily classes – check the timing at reception
I am from the Netherlands, but for 10 years I have been living in sunny Malta. In March 2018, I fulfilled a personal dream and attended a 200-hour Yoga instructor training in India. After receiving my certification, I started as a Yoga instructor with a large corporation while also giving private lessons.
I teach a combination of Hatha and Vinyasa Yoga. In my drop-in classes, people of all levels of experience and ability can practice together – the postures can be adapted to suit you. You will increase your flexibility and muscle strength, improve your energy level and boost your immune system. Try it out and see what benefits Yoga has for your body!
The classes will be held in English.